See on Scoop.it – EVF NEWS FEED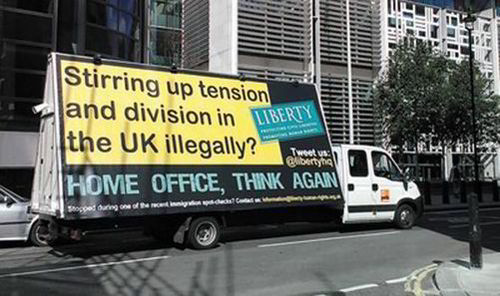 HUMAN rights campaigners have launched their own "go home" van in response to the controversial Home Office publicity stunt which targeted illegal immigrants.
Last month, the Government sent vans into six London boroughs with billboards warning "In the UK illegally? Go home, or face arrest".
Ukip leader Nigel Farage and Deputy Prime Minister Nick Clegg both criticised the boards, and today pressure group Liberty sent its own van onto the London streets with the slogan: "Stirring up tension and division in the UK illegally? Home Office, think again".
A spokesman for Liberty said the Home Office vans had "racist connotations" and compared them with "National Front slogans from the 1970s".
A statement said: "Liberty believes the department's decision to dispatch "Go Home" Billboards is deeply offensive and divisive and in breach of the Equality Act 2010 so therefore unlawful. 
"Liberty also believes that the Home Office does not have legal authority for the type of speculative immigration spot-checks it is carrying out."
Anger mounted over the department's tactics amid reports commuters at transport hubs across the capital were targeted for spot checks by border officials purely on ethnic grounds.
Liberty's van will circle the Home Office, Westminster and the surrounding area, before visiting Kensal Green and Walthamstow – two of the London boroughs thought to be targeted during the spot-checks.
Last week, Liberty's Director of Policy Isabella Sankey,said: "No-one opposes fair immigration rules, proportionately enforced. 
"But that doesn't require polarising publicity stunts which fuel fear and intimidate vulnerable communities; poisoning delicate race relations." 
Elsewhere, Conservative Mayor of London Boris Johnson has admitted the language on the vans could have been "friendlier".
Speaking on LBC 97.3 with Nick Ferrari, Mr Johnson said: "The language could be friendlier, what we're really saying is, are you illegal, do you need to regularise your status, do you need help getting home, then here's the number.
"That seems a perfectly reasonable thing to say."
He went on: "I think maybe it's a fine, fine point, but what I certainly think is right is that it is absolutely right to tell people who are illegal that they've got to obey the law, and that is a reasonable thing for a government to do.
"Because, after all there are many, many tens, hundreds of thousands of people in London who have done the right thing, who have come here at real personal cost, they've made a huge effort, they've gone through all the hoops, they're regularised themselves, they've got indefinite leave to remain.
"They are paying taxes into our society and they are contributing, and it seems to be wrong that there should be a huge number of people who are not in that position who are basically undermining the good faith of those who have immigrated legally.
"So, yes I think it's right for the Government, I'm afraid, I mean I think it is right for the Government to take steps to encourage illegals to get with the system."
The Equality and Human Rights Commission (EHRC) said it will probe the reported spot checks, as well as the controversial "go home" campaign.
Users of the Refugee and Migrant Forum of East London (Ramfel), represented by law firm Deighton Pierce Glynn, have told the Home Office it has until August 8 to agree to ditch the "offensive" campaign or they will apply for a judicial review.
Labour peer Lord Lipsey has reported the ads to the Advertising Standards Authority (ASA), while the union Unite said the Government's campaign was "vile" and it was seeking legal advice over the vans.
When the vans were rolled out last week, Immigration Minister Mark Harper said: "We are making it more difficult for people to live and work in the UK illegally. Every single day our enforcement officers are arresting, detaining and removing people with no right to be in the UK.
"But there is an alternative to being led away in handcuffs. Help and advice can be provided to those who co-operate and return home voluntarily.
"This pilot is just another part of the reforms of the immigration system that have cut out abuse and seen net migration drop to its lowest levels in nearly a decade. The Immigration Bill being introduced later this year will build on this work by restricting illegal migrants' access to benefits and services."