See on Scoop.it – EVF NEWS FEED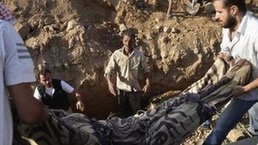 The Scottish first minister has said the case for military action in Syria has not yet been made.
Alex Salmond said he "condemned and deplored" any use of chemical weapons as a crime against humanity.
But he called for UN inspectors to be given time to complete their investigations.
The Syrian government has denied responsibility for a suspected chemical attack on 21 August in which hundreds of civilians are said to have died.
The UK government has drafted a resolution to the UN Security Council authorising "necessary measures to protect civilians" in Syria.
The resolution will be put forward at a meeting of the five permanent members of the council later in New York.
Speaking ahead of the security council meeting, Mr Salmond said: "The Scottish government condemns unreservedly the actions of the Assad regime over recent months and years.
"In particular, we condemn and deplore any use of chemical weapons by any party as a crime against humanity.
"If the findings of UN inspectors do point to this appalling attack having been perpetrated by the Syrian regime, Assad and those responsible should face the full accountability of the International Criminal Court."
But he said any resort to military action should "always be approached carefully, on an evidential base, and within a clear legal framework – and only after full consideration of the aims, objectives and consequences".
The first minister added: "At this stage, we consider that these criteria have not been met and therefore that the case for military action in Syria – or the UK's participation in it – has not yet been made.
"The Scottish government believes that the UN inspectors should be given the time and the full support of the international community to complete their investigations."
See on www.bbc.co.uk