See on Scoop.it – EVF NEWS FEED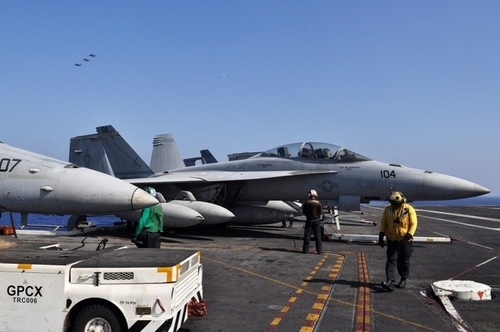 What's next? This question is being asked hourly since last week's alleged chemical weapons attack in multiple Syrian neighborhoods, especially with warring announcements by Western nations including Obama's administration. The State Weekly reported, "Without giving time for testimony, skeptics, investigators and evidence to compile and be sorted out, American and European officials are already beating the war drums." Monday, officials didn't shy away from the threats of war either.
Late Monday, the Guardian reported that military warplanes and transporters were on the move in Cyprus, less than 100 miles from Syria. Regular pilots in the area, around Akrotiri airbase, told reporters that radars were showing fighter jets in formations as well as an eyewitness sighting of multiple C-130 military cargo planes. This runs parallel with the fact that residents around the area told press there's been an eerie amount of traffic, to and from the base. If anything, Akrotiri will be the operational point for Western forces.
Earlier reports from the weekend suggest one of a handful of warships has floated into the Mediterranean Sea region, upping the sea assault for American forces. The Associated Press noted, "The Navy ships are capable of a variety of military actions," including Tomahawk missile fire. As military boats, warplanes and other equipment is moved in from around the world to bases near Syria, American and European officials are laying out the roadmap with policymakers and other international officials.
British Prime Minister David Cameron called on the parliament Tuesday, after the lawmakers went on summer break, for a one-time vote on Syrian intervention. US Joint Chiefs of Staff Martin Dempsey met in Jordan with Amman officials to go over possible strike plans against Syria, just over the weekend Dempsey published military guidelines to the White House. President Obama was reportedly expected to meet with members of the House as well as administration officials this week to go ahead with outlining plans.
Trumping up the justification for an attack was Secretary of State John Kerry Monday afternoon who told TV listeners, "Let me be clear: The indiscriminate slaughter of civilians, the killing of women and children and innocent bystanders by chemical weapons is a moral obscenity." The Secretary of State noted that it was "undeniable" Assad's regime was guilty of last week's chemical attack, despite there being no conclusion drawn from the United Nations investigation.
From a weeks notice of military strike to days, Reuters reported on Tuesday that a Western-led Syrian strike could be sometime this week. "Western powers have told the Syrian opposition to expect a strike against President Bashar al-Assad's forces within days," Reuters detailed, which came from an unknown source attending meetings in Istanbul. Rebel opposition sources told Reuters that Western forces would attack the war torn region while simultaneously preparing for the Geneva peace conference.
Another Syrian opposition figure who remained anonymous told the news outlet that American officials would proceed with a bombing campaign to force Assad's regime into the Geneva peace talks deal. Backpedaling on other possibilities, the opposition figure said, "But we must also be ready for the possibility of the collapse of the regime. If the strike ends up to be crippling," then foreign officials might have more on their hands than expected. Skeptics say that bombing Assad into peace talks may not generate their wanted outcome.
See on thestateweekly.com