See on Scoop.it – EVF NEWS FEED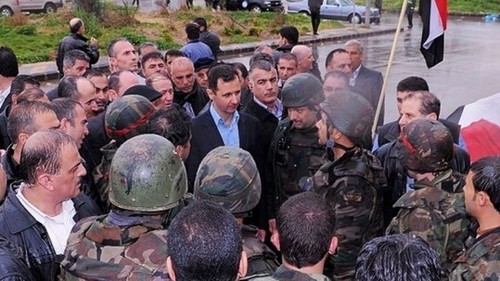 Bellicose Syrian statements precede possible Western strike, and pro-Assad daily warns of Iranian, Hezbollah action.
The Syrian government has begun preparing its public for war, amid Western assertions that the regime was behind a deadly chemical attack against citizens outside Damascus on August 21.
The Lebanese daily Al-Akhbar, which is close to the Assad regime, reported on Thursday that the regime has come to believe that a Western attack will likely occur. In a recent meeting with the Syrian leadership, President Bashar Assad asked his generals to maintain high morale ahead of an imminent attack.
"Since the beginning of the crisis, you have known that we await the moment when our true enemy will intervene. I know that your morale is high and you are fully prepared to confront any aggression and safeguard the nation," Assad was quoted by the daily as saying.
"This is a historic confrontation from which we shall emerge victorious," he added.
In Damascus residents began to prepare for an expected American strike, which could come as early as Thursday, stocking up on water and batteries, according to Reuters.
Long lines for bread and other essentials were reported across the Syrian capital, as jittery residents tried to get ahead of feared shortages.
However, Syrian officials have attempted to remain upbeat, issuing threats against any possible Western military intervention in the country's two-year-old civil war.
During a meeting with parliamentarians on Wednesday, Prime Minister Wael Al-Halqi assured his audience that Syria "will become a graveyard for its invaders."
"The fact that the United States, Israel, and the West are fabricating lies about [our] use of chemical weapons in order to militarily intervene in Syria is a result of the Syrians' steadfastness and the consecutive victories of our valiant army over their terrorist operatives."
These statements seemed to clash with earlier comments by Syrian Foreign Minister Walid Moallem, who on Tuesday opined that the West will not attack Syria. While denying that the regime used chemical weapons against its citizens, Moallem said that Syria was nevertheless prepared to confront a Western attack "with all means."
Moallem's deputy Faisal Mekdad told Reuters that he has submitted proof to the UN chemical weapons inspectors operating in Syria that the opposition has used sarin gas at all the sites of alleged attacks, adding that the same "terrorist gangs" will use the lethal substances against Europe "soon."
Syria's representative to the UN Bashar Jaafari requested that the inspectors look into three gas attacks against Syrian soldiers near Damascus which allegedly took place on August 22, 24 and 25, regime daily Al-Watan reported on Thursday.
'Syria's allies will not stand idly by'
Although Iran does not have a defense pact with Syria, as Foreign Minister Moallem pointed out at the press conference, Iran understands the ramifications of a Western strike for its own security interests in the region.
"Iran will not allow its Syrian ally to be attacked without intervening," wrote Al-Akhbar journalist Ibrahim Al-Amin on Thursday, quoting Supreme Leader Ayatollah Ali Khamenei as saying that a Western attack would entail a "catastrophe" for the region.
As for Hezbollah, Al-Amin noted that the Shiite Lebanese party is part of a larger regional alliance led by Iran.
"Hezbollah is involved in the Syrian crisis, and specifically in the confrontation with the armed gangs which are connected to the West and to the jihadists. It has sacrificed dozens of martyrs there … any Western aggression against Syria will serve as additional motivation for Hezbollah not to stand more forcefully alongside its ally Bashar Assad, but to be in the heart of the battle to defend Syria from the aggression. How will it act? The answer to that question lies with Hezbollah," wrote Amin.
Russia, meanwhile, announced that it would send an anti-submarine ship and a missile cruiser to the Mediterranean; but denied that the move had anything to do with Syria.
"This does not amount to a renewal of any grouping or groupings, it is a planned rotation," a naval spokesman told Russia's official news agency RIA Novosti.
See on www.timesofisrael.com