See on Scoop.it – EVF NEWS FEED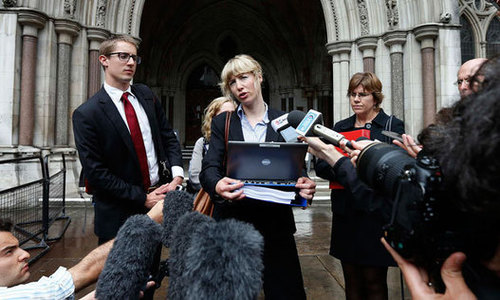 The high court has granted the Metropolitan police extended powers to investigate whether crimes related to terrorism and breaches of the Official Secrets Act have been committed following the seizure of data at Heathrow from David Miranda, the partner of a Guardian journalist.
At a hearing in front of Lord Justice Laws and Mr Justice Kenneth Parker, lawyers for Miranda said they had agreed to the terms of wider police powers to investigate a hard drive and memory sticks containing encrypted material that were seized on 18 August. Previously the inspection had been conducted on the narrower grounds of national security.
Following the court ruling, the police will now be allowed to examine the material to investigate whether a crime of "communication of material to an enemy" has been committed as well as possible crimes of communication of material about members of the military and intelligence services that could be useful to terrorists.
Miranda had been travelling from Berlin to Rio de Janeiro via London on behalf of his partner, Glenn Greenwald, the Guardian reporter who has exposed mass digital surveillance by US and UK spy agencies based on leaked secrets obtained by the former NSA contractor Edward Snowden.
The Home Office also placed before the court a witness statement from Oliver Robbins, deputy national security adviser in the Cabinet Office. In it, he claimed the encrypted material seized from Miranda includes personal information of UK intelligence officers, any compromise of which would result in a risk to their lives and those of their family members.
Release of the data, Robbins said, would render spies and their families vulnerable to attacks or even recruitment by terrorists and hostile intelligence agencies. He said the government had so far managed to access a portion of the encrypted files on the hard drive seized from Miranda which he said contained approximately 58,000 highly classified UK intelligence documents.
The material was "highly likely to describe techniques which have been crucial in life-saving counter-terrorist operations, and other intelligence activities vital to UK national security", the compromise of which "would do serious damage to UK national security and ultimately risk lives".
Gwendolen Morgan, solicitor for Miranda from the law firm Bindmans, disputed the claims. In a statement outside the court, she said: "The Home Office and Metropolitan police have lodged evidence with the court in which they make sweeping assertions about national security threats which they said entitled them to look at the materials seized, but they have said that they cannot provide further details in open court. Mr Miranda does not accept the assertions they have made and is disappointed that the UK government is attempting to justify the use of terrorist powers by making what appear to be unfounded assertions."
She said her client looked forward to having their assertions tested at a full hearing of his judicial review claim.
Alan Rusbridger, editor-in-chief of Guardian News & Media, said: "Mr Robbins makes a number of unsubstantiated and inaccurate claims in his witness statement. The way the government has behaved over the past three months belies the picture of urgency and crisis they have painted.
"The government claims that they have at all times acted with the utmost urgency because of what they believed to be a grave threat to national security. However, their behaviour since early June – when the Guardian's first Snowden articles were published – belies these claims.
"Even after the destruction of the Guardian's London copies of the documents on Saturday 20 July, the government has done little – until the opportunistic detention of David Miranda under laws designed for terrorists, not journalists.
"On Monday 22 July, the Guardian directed the government towards the New York Times and ProPublica, both of whom had material from GCHQ. It was more than three weeks before anyone from the British government contacted the New York Times. We understand the British embassy in Washington met with the New York Times in mid-August – over three weeks after the Guardian's material was destroyed in London. To date, no one has contacted ProPublica, and there has been two weeks of further silence towards the New York Times from the government.
"This five-week period in which nothing has happened tells a different story from the alarmist claims made by the government in their witness statement.
"The Guardian took every decision on what to publish very slowly and very carefully and when we met with government officials in July they acknowledged that we had displayed a 'responsible' attitude. The government's behaviour does not match their rhetoric in trying to justify and exploit this dismaying blurring of terrorism and journalism."
The court's substantive ruling means that from Friday, the police and other agencies will be allowed to use the data Miranda was carrying to investigate whether a crime has been committed under section 58 of the Terrorism Act 2000 which lawyers said involved the collection or making a record of information "of a kind likely to be useful to a person committing or preparing an act of terrorism", or possessing a document or record containing information of that kind.
Under section 58a of the same act they will look at offences of "eliciting, publishing or communicating information about current and former members of the armed forces, intelligence officers and police officers, which is of a kind useful to a person committing or preparing an act of terrorism or publishes or communicates any such information".
Government lawyers said police will be able to investigate crimes under section one of the Official Secrets Act 1911 which deals with communication of material to an enemy and "various offences" under the Official Secrets Act 1989.
Appearing for Miranda, Matthew Ryder QC, said his client accepted the terms as part of "a pragmatic approach" to the dispute ahead of a full hearing into the legality of Miranda's detention and the seizure of his data which is expected in October. The court had last week allowed the data to be examined in the context of the protection of national security or for investigating if Miranda was involved in terrorism.
In his statement Robbins referred to the government's interaction with the Guardian in July over its use of the material for a series of stories about US and British digital surveillance. He said the government was seeking to avoid any misrepresentation it was seeking to stifle "legitimate journalism".
He criticised Miranda and his associates for "very poor judgment in their security arrangements with respect to the material rendering the appropriation of the material, or at least access to it by other, non-state actors, a real possibility".
Robbins said the government believes the data may have already been obtained by one or more of the countries through which Snowden has passed since he fled the US. They include China and Russia, where Snowden is currently living.
He said while most of the files remained encrypted, it was possible to access a portion of files on the hard drive because a piece of paper containing basic instructions for accessing some of the data that included a password for decrypting one of the files was among Miranda's things.
Robbins said assessments by GCHQ had shown that the number of documents on the hard drive seized from Miranda was consistent with the number that Snowden would have had access to when working at the NSA and that he "indiscriminately appropriated material in bulk", and that at least some of that was being couriered by Miranda.
"The material seized is highly likely to describe techniques which have been crucial in life-saving counter-terrorist operations, and other intelligence activities vital to UK national security," he said.
"The compromise of these methods would do serious damage to UK national security and ultimately risk lives."
He said any action by the court to prevent the authorities using the information would effectively prevent attempts to mitigate the risk of revealing the identities of UK spies and security officers which "would be of value to elements hostile to the national interest of the United Kingdom, including foreign intelligence agencies and terrorists".
Robbins continued: "It is known that contained in the seized material are personal information that would allow staff to be identified, including those deployed overseas." Any compromise of their identities would "result in danger to the persons concerned or their close associates … this danger includes a risk to life, both to intelligence officers and their families".
He warned they could be subject to recruitment attempts or threats to their safety "by hostile intelligence services or terrorist groups".
Robbins said he had been advised that "the information that has already been obtained has had a direct impact on decisions taken in regard to staff deployments and is therefore impacting on operational effectiveness".
He said: "Real damage has in fact already been done to UK national security by the media revelations [both in the UK and internationally]."
See on www.theguardian.com