See on Scoop.it – EVF NEWS FEED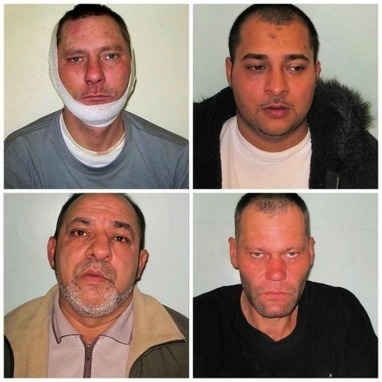 A GANG who carried out a string of violent robberies against Portobello Market antique jewellery dealers, stealing goods worth more than £240,000, have been jailed.
Polish nationals Adam Stefanowicz, 28, Jan Kowal, 52 and Ireneuusz Szawkalo, 45, all of Amhurst Park, north London, were each jailed for eight years after admitting conspiracy to commit robbery.
Mirusz Golait, 39, also a Polish national, of no fixed address, was jailed for three years after admitting the same charge.
Wearing balaclavas or masks, the defendants targeted their victims as they set off from home to trade at Portobello Market, using various methods to overpower them, such as cable ties, incapacity spray or by physically trying to choke them.
The victims, all aged between 50 and 70, were singled out by the defendants who scouredthe Notting Hill market for stalls selling the most lucrative goods.
One victim said: "Since the robbery I have suffered flashbacks on numerous occasions and I have found it hard to sleep. I have constantly been looking over my shoulder, fearful of another attack."
The men planned their offences meticulously, carrying out surveillance on their victims to establish mode of travel, home address and work travel times.
In one robbery, on October 13 last year, two traders – a husband and wife aged in their 50s – were targeted.
A masked group approached the husband, grabbing him violently around the neck, applying a 'military choke', before making off with jewellery worth £200,000.
Then on December 1, a 63 year-old man was attacked and his bag containing cash, jewellery and antiques worth £31,500 were taken.
On January 29, masked men targeted another trader, spraying CS gas in his face and making off with a bag of silver cutlery worth £9,000.
Then a month later, on February 23, police officers investigating the robberies arrested the men as they tried to force their way into a block of flats in St Johns Wood, where a 67 year-old woman who trades on the market lives.
They were found wearing balaclavas and carryinglarge cable ties ready for use.
Detective Chief Inspector Lee Hill, of the MPS London Crime Squad, said: "This was a lengthy and protracted investigation into a violent and organised criminal gang. I would like to thank everyone involved, in particular the Portobello Market community of traders for their assistance in bringing these offenders to justice."
To date, the stolen jewellery has not been recovered.
All four men were jailed at Southwark Crown Court on Friday last week (23).
See on kensington.londoninformer.co.uk