See on Scoop.it – EVF NEWS FEED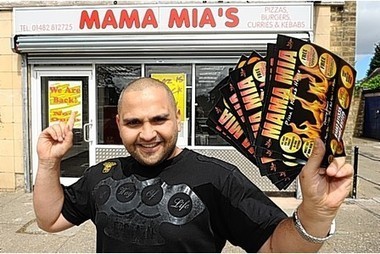 A HULL takeaway owner faces jail for his role in a £9m heroin smuggling plot. Father-of-one Usman Bari, 33, is known for running the Mamma Mia Takeaway in Longhill, east Hull.
However, his role in one of the city's biggest drug smuggling operations – for which two other Hull men, Paul Cahalin and Alan Riley, are currently serving time – has now been revealed.
Bari, of Middleton Court, off Spring Bank, has been found guilty by a jury at Leeds Crown Court of conspiracy to import class A drugs, conspiracy to supply and conspiracy to launder the proceeds. He will be sentenced this month.
His role in the plot was uncovered by Regional Organised Crime Unit officers during Operation Yates, a "follow on" investigation into other suspects linked to Cahalin and Riley, who were prosecuted by UK Border Agency and sentenced to a total of 20 years last year.
A former friend and Longhill resident spoke of the community's shock at discovering Bari's involvement in the drugs smuggling.
"I am shocked. I couldn't even imagine him doing something like this," said the woman, who did not wish to be named.
"As far as I was concerned he was a family man who ran his own business. I can't believe he would be involved in something like that."
Bari, who is also thought to run a Hull salvage company, was one of five men – including long-time acquaintance and operation ringleader, Khalid Mahmood, of Bradford – to face the courts over the plot which saw £8.9 of heroin smuggled into the UK in bottles of baby powder sent through the post.
The trial lasted ten weeks, during which the prosecution, represented by Jonathan Sandiford, described how parcels were originally sent from post offices in Bradford to Pakistan using a recorded or tracked service.
Once they arrived, accomplices replaced the contents with partially emptied plastic bottles of baby powder and inserted packages of heroin inside before sending them back to Hull and Manchester, marked "undelivered – return to sender".
The Crown Prosecution Service (CPS) believes Bari, although not a main player, was the link between each drug gang in Hull and Bradford.
Their plot was foiled in 2011 when staff at Royal Mail Citadel Park office became suspicious at the number of such parcels arriving there and alerted the UK Border Agency. Five parcels containing £473,000 of heroin were intercepted in March.
From records, police identified a further 94 packages had already been delivered, which, with a similar content, meant a total street value of £8.93m. They had been posted originally from 12 different post offices in Bradford.
Cahalin, formerly of Halliwell Close, east Hull and Riley, formerly of Cranswick Grove, east Hull, who arranged the drop addresses for the packages in the city and transported them to Bradford, were convicted last year for smuggling £13m of heroin.
Following Cahalin and Riley's arrest, a major, complex investigation got underway, and discovered telephone links between Bari and Cahalin.
However, Bari and the other four defendants can only be linked to £9m of drugs.
Head of the CPS Complex Casework Unit, Peter Mann, said: "Operation Yates was an incredibly complex prosecution. It involved evidence from a number of crime agencies and a huge amount of complicated telephone evidence.
"The Regional Crime Unit conducted a follow on investigation into other suspects linked to Cahalin and Riley, including Bari, who provided the link between Bradford and Hull."
Bari had been bailed following his arrest but is now remanded in custody before sentencing. It is believed he has since sold Mamma Mia's.
Along with Bari, the jury also unanimously found Khalid Mahmood, 30, of Low Lane, Clayton, Bradford, guilty of conspiracy to import class A drugs, conspiracy to supply and conspiracy to launder the proceeds.
Faisal Khan, 30 of Burnett Avenue, Marshfields, Bradford, Yasser Uddin, 31 of Clifton Villas, Manningham, Bradford, and Fiaz Ahmed, 31 of Cambridge Street, Oldham, were each found guilty of the same offences the previous week, when another man was cleared of conspiracy to supply and conspiracy to launder proceeds. Two other men were acquitted on other charges.
See on www.thisishullandeastriding.co.uk