See on Scoop.it – EVF NEWS FEED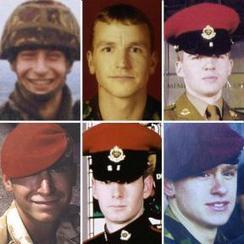 THE families of four Army Red Caps, including one from North Yorkshire, killed by an Iraqi mob are to bring a human rights act claim in a bid to force a public inquiry, their lawyer has said.
The families will also lodge a criminal complaint concerning allegations that some individuals involved in the incident in June 2003 acted contrary to military law, but will not be seeking any damages, Simon McKay said today.
Lance Corporal Benjamin McGowan Hyde, 23, from Northallerton, Corporals Russell Aston, 30, Simon Miller, 21 and Lance Corporal Tom Keys, 20, were killed alongside two other Royal Military Police officers when a 400-strong mob descended on a police station in Majar al-Kabir in Iraq in June 2003.
Their legal action against the MoD follows a landmark ruling at the Supreme Court in June.
Mr McKay said he met the families of the four Red Caps today and had been instructed to bring a human rights act claim seeking, among other things, a public inquiry into the murders.
He said: "The families have been seeking answers to questions for ten years and they still havent had them adequately answered.
"The High Court proceedings we will be issuing will be for the purpose of getting to the truth of what happened on June 24, 2003 and the reasons why.
"For the avoidance of doubt the families are not seeking compensation and there will be no claim against the legal aid fund."
Mr McKay said that, in addition, a criminal complaint will be lodged with the Provost Marshall's office in respect of allegations that individuals concerned in the incident acted contrary to military law.
He added: "Notwithstanding evidence existing that some members of the military may have been culpable in military law terms no investigation has ever taken place to explore this, and complaint has now been made with the appropriate body to invite them to now do so."
The other two Royal Military Police officers were Sergeant Simon Hamilton-Jewell, 41, from Chessington, Surrey, and Corporal Paul Long, 24, of South Shields, Tyne and Wear.
In July Mr McKay announced the family of Cpl Aston had launched a legal claim alleging that commanders failed to take reasonable measures to keep him and his fellow military police officers safe, saying the Red Caps were not supplied with sufficient ammunition to defend themselves, or roadworthy vehicles or effective communications.
As he revealed the latest plans for their legal action today, he said they were not seeking any compensation or damages but just wanted to get to the truth.
The move comes after families of British soldiers killed and injured fighting in Iraq were given the go-ahead earlier this year to bring compensation claims against the Government.
The Supreme Court – the highest court in the UK – ruled that damages claims could be launched under legislation covering negligence and human rights.
At the time, Defence Secretary Philip Hammond said he was concerned at the wider implications of the judgment, which potentially threw open a range of military decisions to the uncertainty of litigation.

See on www.darlingtonandstocktontimes.co.uk