See on Scoop.it – EVF NEWS FEED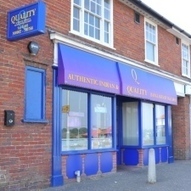 Acting on intelligence, Home Office Immigration Enforcement officers visited Quality in Harvey Lane in the evening on August 23.
The officers' checks found a man at the takeaway was an immigration offender from Bangladesh who was working in breach of his visa conditions.
The 47-year-old man has been taken into immigration detention pending his removal from the UK.
The business now faces a potential fine of up to £10,000 for the illegal worker unless it can demonstrate that appropriate pre-employment checks were carried out such as seeing a passport or Home Office document.
Rachel Duffy, from Home Office Immigration Enforcement, said: "Operations like this are carried out across the UK every day as we continue our work to track down and remove from the country those who seek to abuse our immigration laws.
"The public can be a huge help and I urge people with information about suspected immigration offenders to get in touch."
Anyone with information about immigration crime can contact Crimestoppers on 0800 555 111 anonymously or visit http://www.crimestoppers-uk.org
See on www.eveningnews24.co.uk