See on Scoop.it – EVF NEWS FEED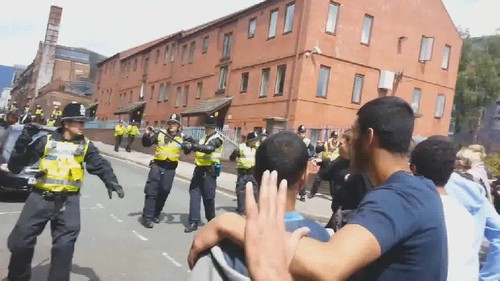 Here's the full story of what really happened in Sheffield during the silent walk.
Around 1000 patriots walked with flowers to a war memorial whilst ignoring the taunts of Muslims and UAF for an hour until they finally had enough of chants of 'racists' and 'Allahu Akbar' whilst bottles were thrown at them.
The silent walk was planned because the week prior a group of around 30 locals walked with flowers to the cenotaph to pay respects to a murdered soldier but were met by UAF and Islamists blocking their path whilst standing on the memorial waving a black flag of Jihad ,shouting 'nazi racists' at anyone who disagreed with them ,including women with young children wanting to lay a wreath.
The UK government and local councils refused to defend the locals or condemn the actions of protestors ,so the EDL said they will help locals walk peacefully through their city without being called racists just for holding a Union Jack or English flag.
The Capitol of England in 2011 had a population of 44.8% British and 55.2% other…with British families birthrate of 1.3 children per couple and Muslims birthrate of 5.2 per household….that 44% will be 2% in no time….goodbye England.
See on www.liveleak.com