See on Scoop.it – EVF NEWS FEED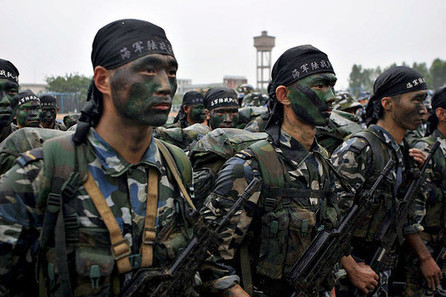 Chinese, Russian warships and combat troops entering the hot zone…
As the American naval presence off the coast of Syria awaits for potential orders to launch an attack on the civil war ravaged nation, the Yanks aren't the only ones beefing up their respective armadas, as reported by the Madras, India based TheHindu.com on Sept. 5, 2013 and the Russian-language news aggregate Telegrafist.org (The Telegrapher) on Sept. 4, 2013.
The pride of the Russian Fleet, the battle cruiser RFS (Russian Federation Ship) Moskva will also pull double-duty as the command and control flagship for the task force.
The RFS Moskva will be joined by a destroyer from Russia's Baltic fleet and a frigate from the Black Sea fleet.
According to Russia's Interfax news agency, the battle cruiser Moskva is heading to the Gibraltar Straits, and in approximately 10 days it will enter the east Mediterranean, where it will take command of the Russian ships already on station.
Russia is also sending a reconnaissance ship to the region, which reportedly would operate separately from the main naval flotilla.
As previously covered by Examiner.com on Aug. 25, 2013, the small but growing Russian task force in the eastern Mediterranean waters consist of a guided missile destroyer, the RFS Admiral Panteleyev, two amphibious warfare ships the RFS Peresvet and the RFS Admiral Nevelskoi, complete with approximately 2,000 Russian Marines, as well as a oil tanker and an ocean going tug.
Also cited was yet a third Russian amphibious assault ship with an unknown compliment of Marines as slated to join the fleet.
Between their Marines and Naval Infantry landing troops, the Russians could conceivably land a regiment's worth of combat troops in the region.
China Enters The Possible Fray…
Unconfirmed by Western media, the Russian news aggregate Telagrafist is citing various sources that the Chinese amphibious assault warship, the CNS (Chinese Navy Ship) Jing Gangshan is heading towards the eastern Mediterranean potential powder keg to "observe" American and Russian warships.
However, the Kenyan news portal CoastWeek.com via Google News reported on Aug. 27, 2013 that the Jing Gangshan is currently steaming in the Gulf of Aden pulling pirate escort duty for commercial shipping.
Unreleased to the Western media, it is unknown if or how many Chinese Marines are embarked aboard the Jing Gangshan, but she is designed to transport upwards of 1,000 Marines and their equipment.
From the Gulf of Aden to the eastern Mediterranean waters takes approximately five days sailing time.
See on www.examiner.com