See on Scoop.it – EVF NEWS FEED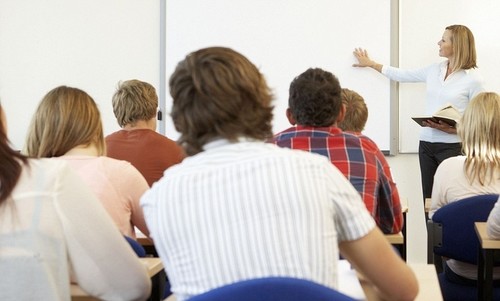 Secondary schools face an overcrowding crisis due to Labour's failure to deal with the effects of immigration.
A leaked government document reveals that within two years, classes will struggle to accommodate tens of thousands of pupils.
The previous government's ministers repeatedly ignored warnings about the fallout from soaring immigration and a baby boom – and even told councils to close schools with too many 'surplus' places.
Yet this week the Mail revealed how pupils are now packed into primary schools like sardines, with a third of councils introducing extra reception classes.
The problem has already spread to many secondaries, with one in five either full or taking on pupils 'in excess of capacity'. In response, councils are opening super-sized schools for 2,000-plus students.
Now a 'restricted' paper prepared by the Department for Education – which carries a warning that it is 'very sensitive and should not be forwarded' – has laid bare the scale of the so-called 'ticking timebomb' caused by Labour's lack of planning, adding that ministers have 'faced fears of an impending shortage for some years'.
A steady increase in the number of babies being born has helped fuel the crisis, with 120,000 more born in 2011 than in 2002. In addition, there has been a 'threefold increase in net long-term migration since the mid-1990s', the report adds.
The seven-page document cites evidence collected by the Home Office that the 'impact of immigration has been substantial', adding that it was seen 'as an important contributory factor, through both the arrival of migrant children and the high birth rates of some migrant groups'.
It says an additional 35,000 secondary places will be needed by 2015, adding: 'This shortage of places is the direct result of the increase in the birth rates since 2002 and the surge in net migration since the mid-1990s.'
It points out that despite multiple warnings to ministers, there was 'no increase in funding to respond to the rising school population' until the Coalition came to power in 2010.
Data released under the Freedom of Information Act confirms that internal estimates from the Labour government in May 2007 pointed to a rapid increase in the school population.
Nevertheless, seven months later Labour's Education Department, then led by Ed Balls, advised councils to 'close schools with consistently poor performance and/or excessive surplus places'.
Rocky Gill, deputy leader of Barking and Dagenham Council in East London, which is considering introducing three-day school weeks due to the shortage of places, said: 'It's a ticking timebomb as the kids go through the primaries, heading to the secondaries.
'The Government really needs to act because otherwise we'll have a national crisis for the secondaries in a matter of two or three years.'
The Coalition has more than doubled spending on creating new school places, with £5billion committed between 2011/12 and 2014/15.
For the start of the new school year, primary schools are expected to have 110,000 more places. Ministers insist their response will deal with the increasing demand.
Stephen Twigg, Labour's education spokesman, said: 'More than three years in to this parliament,
David Cameron and Michael Gove bear the full responsibility for the primary places crisis that they have presided over.'
But Michael Gove, the Education Secretary, said Labour 'were warned repeatedly that they hadn't done enough to plan for a growing population – and once more it's been left to the Coalition government to clean up the mess'.
'Labour cut 200,000 primary places, slashed the amount spent on areas of population growth, and let immigration soar – and all this in the middle of a baby boom,' he said.
See on www.dailymail.co.uk