See on Scoop.it – EVF NEWS FEED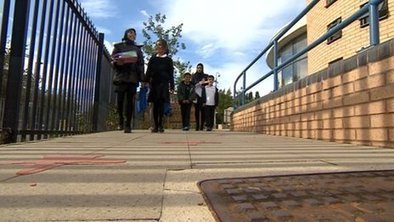 A flu vaccination programme at schools in Leicestershire has attracted criticism after it was discovered the vaccine contains pork gelatine.
Leicestershire and Rutland is part of a pilot by NHS England to offer the nasal flu vaccine Fluenz to 70,000 pupils in the region, aged four to 10.
Many pupils cannot consume or use animal products for religious reasons, or because they are vegetarian.
Health officials have apologised for not informing parents at the outset.
At one school attended by Muslim pupils, head teacher Chris Hassall said it showed a lack of "sensitivity".
'Need transparency'
Mr Hassall, from Taylor Road School, Leicester, said: "Parents have a right to know what's in it.
"Why can't we be transparent and open so that parents can make an informed choice."
His sentiment was echoed by Suleman Nagdi, of The Federation of Muslim Organisations in Leicester.
He said it was especially important for parents to have confidence in the system following the recent scare over pork in halal burgers at a Leicester school.
The region is part of a national pilot programme by NHS England to test the practicalities of giving the vaccine to a large number of children in a school setting.
"Pork is not allowed to be ingested at all – it's something that Muslims feel extremely uncomfortable about"
Luman AliFederation of Muslim Organisations
Dr Tim Davies, NHS England's consultant lead for immunisation in Leicestershire, said: "If we can learn to do things differently we will look at doing that.
"Any immunisation programme has to be acceptable to the population it's being offered to."
However, he added: "It depends on whose view you take as to whether [pork gelatine is] an acceptable or unacceptable ingredient of the vaccine."
He said it was not practical for all ingredients to be listed.
'Best protein'
"Vaccines have a lot of products in them, in very small quantities – but I think we wouldn't normally expect to list those – otherwise it becomes a very long and complicated document," he said.
A spokesperson for the Vegetarian Society said: "The use of animal ingredients in medications is a serious concern for both vegetarians and those who avoid certain animal products for religious or cultural reasons.
"This is a complex area with no overnight solutions, but the Vegetarian Society believes that everyone has a right to know what they are consuming."
Luman Ali, from the Federation of Muslim Organisations, said: "Pork is not allowed to be ingested at all – it's something Muslims feel extremely uncomfortable about."
Asked about why the vaccine contained pork gelatine, Mr Davies said: "Fluenz is a live flu vaccine – the viruses need to be bound to something in order to make the vaccine work – the best thing to bind them to is a protein and the best protein to use is one that has been derived from gelatine.
"At the moment Fluenz is the only vaccine available as a nasal spray – and the only live flu vaccine – it works better on children."
See on www.bbc.co.uk