See on Scoop.it – EVF NEWS FEED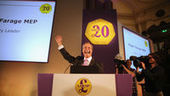 After Conservative MP Jacob Rees-Mogg told Chanel 4 News that a pact with Ukip could help defeat Labour at the general elections, a poll suggests that almost a quarter of Conservative councillors agree.
Such a pact would see the Tories step back in some seats and increase the chances of Ukip getting an MP elected.
A ComRes poll of Conservative councillors, published just ahead of the party conference this weekend, found that 22 per cent would back such a deal.
Even more agreed with key Ukip policies on topics such as international aid. 62 per cent are against the government's pledge to spend 0.7 per cent of GDP on international aid.
Gay marriage backlash
Though councillors had a relatively warm opinion of David Cameron, with 61 per cent saying he was a good leader, they believed the electorate didn't view him so kindly.
Twenty three per cent of Tories on councils across England and Wales believe that most local voters view David Cameron as arrogant while just 26 per cent on the ComRes poll agreeing that he is seen as in touch with ordinary people.
The majority of councillors who responded expect that David Cameron's push to legalise gay marriage will hit the Tories at the ballot box.
A Tory source said: "80 per cent of our councillors didn't respond to this survey so it's hardly representative. It should be taken with a large pinch of salt."
ComRes interviewed 1,444 out of a total 8,589 Conservative councillors in England and Wales by online survey.
See on www.channel4.com