See on Scoop.it – EVF NEWS FEED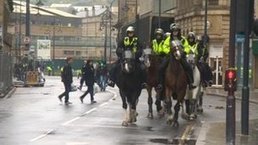 West Yorkshire's Police and Crime Commissioner is calling for forces to have more power to ban demonstrations such as those held by the English Defence League (EDL).
It follows an EDL rally in Bradford on Saturday that cost the force about £1m to police.
Mark Burns-Williamson wants the government to allow chief constables to have the power to ban such demos.
At present, static protests such as those held by the EDL cannot be banned.
Mr Burns-Williamson said he would be writing to the government "clearly setting out" that it "needs to review the legal framework".
Public order arrests
He said he wanted more powers given to the chief constables, who in consultation with police and crime commissioners and other organisations, could make "informed decisions" about such protests.
He added: "There's a number of police and crime commissioners who now feel it's time for the home secretary to review the legal framework to give chief constables primary powers to look at static protests of this type with the EDL."
About 1,000 police officers from several forces were involved in policing Saturday's protest between the EDL and We are Bradford.
Police said it involved about 700 EDL supporters and 120 counter protesters.
Eleven people were arrested for public order offences.
See on www.bbc.co.uk