See on Scoop.it – EVF NEWS FEED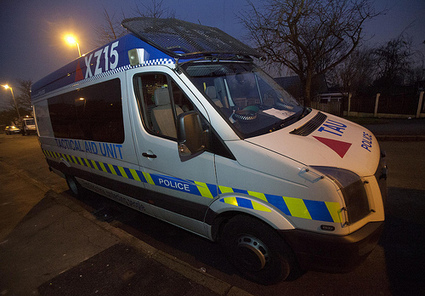 Police are looking for two suspects following reports that a woman was sexually assaulted in an alleyway in Rochdale.
Her attackers were only scared off when a member of the public saw what was happening and told them to leave the woman alone.
It happened in an alleyway of St Mary's Gate in Rochdale at about 4.25pm on 18 September 2013.
The 17-year-old girl was walking towards a bus stop when she was approached by the two Asian offenders who initially made lewd comments towards the girl before they sexually assaulted her.
A woman then walked into the alleyway, saw what was happening, and told the offenders to leave the young girl alone which they did.
The first offender is described as being Asian, 17 to 18-years-old, about 5ft 10in tall, of a slim build with short black hair and wearing a bright red coat. The other offender was also in his mid teens, about 5ft 5in tall and of a chubby build. He was wearing a black coat.
Police are appealing to anyone with information to come forward.
Detective Sergeant Julie Adams said: "This young woman was extremely distressed to be confronted by two intimidating offenders who initially made lewd and inappropriate comments, before turning physical and sexually assaulting her.
"Thankfully, a member of the public saw what was happening and scared these two cowards off before the offences could escalate.
"We need to find these two individuals and give the young girl some sense of justice which is the only peace of mind she can get following this deeply upsetting ordeal.
"I would appeal to anyone who has information about what happened to come forward and speak to police."
Anyone with information is asked to call police on 101 or Crimestoppers on 0800 555 111.
Greater Manchester is nationally recognised as a model of good practice in terms of support services available to victims.
– If you or someone you know has been raped or sexually assaulted, we encourage you not to suffer in silence and report it to the police or a support agency so you can get the help and support available.
– You can call Greater Manchester Police on 101, or alternatively people can refer themselves to St Mary's Sexual Assault Referral Centre on 0161 276 6515.
– St Mary's Sexual Assault Referral Centre in Manchester provides a comprehensive and coordinated forensic, counselling and medical aftercare service to anyone in Greater Manchester who has experienced rape or sexual assault. Services are available on a 24-hour basis and people can access them either as a self-referral or via Greater Manchester Police.
– Manchester Rape Crisis is a confidential support service run by women for women and girls who have been raped or sexually abused. Confidential helpline: 0161 273 4500. Black and Minority Ethnic helpline: 0161 273 4514.
– Survivors Manchester offers support and counselling for adult male survivors of sexual abuse and rape, regardless of when the event happened. Contact 07919 246 267.
See on manchestergazette.co.uk