See on Scoop.it – EVF NEWS FEED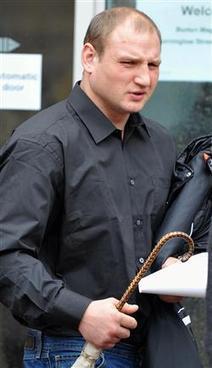 A LITHUANIAN sex pest who cornered a pregnant woman in a shop and exposed himself to a group of children is facing jail.
Romanas Mazrimas left the women shaken after groping and attempting to kiss her in a store in Uxbridge Street, Burton.
Then, in a separate incident, he exposed himself to children as young as 11 and 13 whilst clad in a lady's silk dressing gown.
When the startled children ran away from the 27-year-old, of Casey Lane, he then gave chase, Burton Magistrates' Court heard.
He was said to have downed a bottle of whiskey before flashing up to 10 people.
Due to the serious nature of the two offences, magistrates decided that Mazrimas deserved a harsher sentence than their powers allow, almost certainly meaning he faces a jail sentence.
The court heard how Mazrimas left the pregnant terrified as she struggled to free herself of Mazrimas' grasp.
Mazrimas and an accomplice blocked the doorway of the store as the woman attempted to leave.
Karen Walton, prosecuting, said: "He asked for a kiss and she replied firmly no. He then grabbed her around the bottom and pulled her closer. She managed to push him away, but he again attempted to kiss her on the lips. She ran home and burst into tears."
A young victim, who was flashed near Burton Town Hall, said he had been left anxious to go out following the incident.
The boys were targeted while playing at around 6.30pm, on August 10.
Neil O'Driscoll, defending, said: "My client said he was very embarrassed about what he did. He can't believe he exposed himself to children. He has alcohol issues and at the time of both offences was completely intoxicated."
Mazrimas pleaded guilty to sexual assault and exposure.
He will be sentenced at Stafford Crown Court on a date to be fixed.
See on www.burtonmail.co.uk