See on Scoop.it – EVF NEWS FEED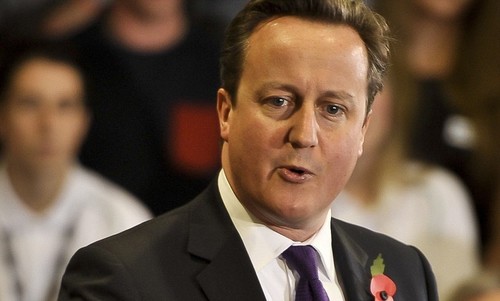 David Cameron today declared the UK must 'say no' to jobs going to immigrants because young Brits are not capable of work.
The Prime Minister said he did not 'blame' Eastern Europeans who flock to Britain because they want to work.
But he warned that thousands of youngsters could be 'left behind' as the economy recovers because they do not have the knowledge to secure a well-paid job.
Mr Cameron has already proposed curbing access to benefits and public services for migrants which the government claims acts as 'pull factors' drawing people from across Europe to the UK.
But the PM today warned that one of the reasons why so many foreigners found work in Britain was because local people did not have the skills, training or qualifications to be hired.
Latest figures show that of the record 29million people in work, 4.4million were born outside the UK.
It means 15 per cent of all workers are foreign nationals, up from nine per cent a decade ago.
Mr Cameron said immigrants could not be blamed for seeking jobs in British factories when schools and colleges were not producing students with the required skills to do the work.
Speaking at Oxford's Mini plant, Mr Cameron said: 'You can go to factories in our country where half the people come from Poland, Lithuania or Latvia.
'You can't blame them, they want to work, they see the jobs, they come over and they do them.'
Mr Cameron said the UK should demand an end to the influx of foreign workers taking jobs that young Brits could do.
'As a country what we ought to be saying is "No, let's get our education system right so we are producing young people out of our schools and colleges who are fully capable of doing those jobs".'
The welfare system required reform so it 'does not pay to be out of work' and immigration needed to be restricted, he added.
'Let's have sensible controls on immigration, particularly from outside the EU where we can cap the number of people who come,' he said.
In April to June this year there were 683,000 people working in the UK from Czech Republic, Estonia, Hungary, Latvia, Lithuania, Poland, Slovak Republic and Slovenia.
It has risen dramatically from the 44,000 working here in 2003, the year before the eight countries joined the EU.
Work restrictions on people from Romania and Bulgaria will be lifted in January next year. But already about 100 Romanians and Bulgarians a day are getting jobs in Britain.
The number of people from the two EU countries has soared by more than a third over the past year, even though they are not yet allowed to work freely in this country.
The number here has reached a record high of 141,000, according to the Office for National Statistics – over-shadowing the total number of Australians and New Zealanders for the first time since records began.
Mr Cameron said young Brits needed to get into the habit of work.
He said: 'Getting people into the workplace, giving them experience of work, of timekeeping and all the things it means to have a job is a really good way to help get people started.
'It's a cruel fact but it's true that the best way to get a job is to have one already.'
He added: 'The danger for a country like Britain is yes, you see the economy recover, yes you see jobs coming, but you leave behind people who have not got the right qualifications from school.
'I don't want that to happen in our country.'
See on www.dailymail.co.uk