See on Scoop.it – EVF NEWS FEED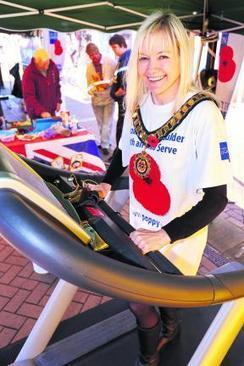 MORE than 420kms were run, cycled and rowed as this year's Poppy Appeal was launched in Bicester.
The event, outside Lloyds Bank, in Sheep Street, on Saturday saw 12 soldiers and additional members of the Royal British Legion take part in the 12-hour event.
Corporal Steven Fisher, 29, a Royal Engineer with the Defence Explosive Ordnance Disposal, Munitions and Search Training Regiment, launched Bicester's Poppy Appeal.
The participants either ran, rode or rowed for an hour each in a bid to travel the equivalent of 425km in 12 hours.
Bicester and Launton British Legion secretary David Crabbe said: "I think about 425km was travelled in total.
"It was very well supported and really did help us to kick off this year's Poppy Appeal for our district."
He said he was hopeful £1,000 would be raised but that the total was not yet known. The soldiers are based at St George's Barracks, where a £100m world-leading bomb disposal training base opened earlier this year.
It includes a state-of-the-art cave complex, a seven-million-litre diving pool and a £900,000 underground tunnel system.
Staff train hundreds of soldiers from across the UK in the latest bomb search and disposal techniques in more than 250 different courses.
Organiser Cpl Fisher said: "What we do is we teach Royal Engineers to search for IEDs (improvised explosive devices). We send them to Afghanistan and some unfortunately don't make it back.
"The Poppy Appeal helps their families.
"It dates back to World War One and the Royal British Legion is a charity that's close to our hearts."
British Legion volunteer Helen Kavanagh added: "It was a very succesful day and we had lots of people interested in what we were doing and supporting us.
"We would like to thank everyone for their support.
"We have a number of volunteers who will be out and about in Bicester and a number of shops have allowed poppy boxes to be put in their shops."
The Royal British Legion will have a stand at Sainsbury's branch in Pioneer Square, Bure Place, Bicester until November 12 to provide information and the opportunity for people to donate to the Poppy Appeal.
Bicester mayor Melanie Magee said: "I did have a bit of a go on the machines but I was nowhere near as fast or as good as the soldiers.
"I made the mistake of wearing a dress and boots, but I certainly gave it my best shot.
"It is very important that we show our support for the Poppy Appeal and our services, especially in a town like Bicester where there is a high military presence, to remember those who have lost their lives and those still serving."
See on www.oxfordmail.co.uk