See on Scoop.it – EVF NEWS FEED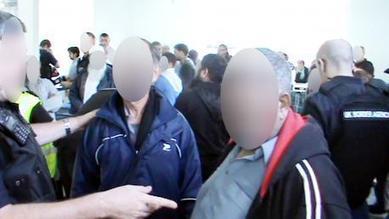 THIRTEEN suspected illegal immigrants were arrested during night-time Home Office raids.
Police and immigration enforcement officers swooped on Artisan Furnishings Ltd, in Cawdor Mill, Cawdor Street, Farnworth, on Friday night.
They checked the immigration status of the staff as a result of "intelligence" received.
Eleven were found to have overstayed their visas, and two were discovered to have no right to work in the UK.
Eight are Indian nationals, four are Pakistani nationals and one is a Pakistani-born British Overseas citizen with no permission to live or work in the UK.
Ten of those arrested were working in a section of the building where curtains are manufactured, and three were working in an area used to make food products. All were employed by Artisan Furnishings Ltd and were aged between 26 and 58.
The Home Office will deport 10 of those arrested, while three have been temporarily released but will have to report regularly to the Home Office while their cases are being progressed.
Officers also seized tens of thousands of pounds.
A civil penalty notice will now be served on the owners of Artisan Furnishings Ltd for employing the 13 illegal workers.
They will face fines up to £10,000 per worker unless proof is provided that the correct right to work checks were carried out.
These include making sure staff have a Home Office document or passport.
The total fine could be as high as £130,000.
Eddy Montgomery, Director of Immigration Enforcement in the North, said: "Unscrup-ulous employers who flout the law will not be tolerated.
"Illegal working is unfair on honest employers and takes jobs away from those with a legal right to work.
"Our message to employers is simple — we will find you and you will pay a heavy penalty."
Businesses have been warned they could risk fines of up to £20,000 if found using illegal labour The Government is also planning to simplify the right to work checks, to make it easier for compliant employers to fulfil their respons-ibilities.
No-one from Artisan Furnishings Ltd was available for comment.
See on www.theboltonnews.co.uk