See on Scoop.it – EVF NEWS FEED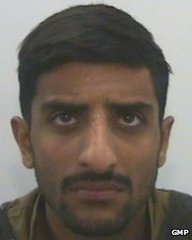 A man has been jailed for 20 years for a "revenge" hit-and-run which left one victim with "life-changing" injuries.
Disqualified driver Aqab Hussain, 21, was convicted of four counts of attempted murder following a trial at Manchester Crown Court on 2 October.
He had driven his Vauxhall Corsa at speed at four men in John Dalton Street, Manchester, in the early hours of 21 August last year.
One man jumped out of the way but the others suffered "substantial" injuries.
Michael Ward, 29, who has children aged six, four and one, was thrown over the car roof and left with catastrophic head injuries.
He now cannot talk, feed himself or play any part in family life, the court heard.
Hussain made no attempt to stop the car and fled the UK three days later.
'Flung like skittles'
He was arrested nearly two months after the incident at Manchester Airport as he returned to the UK.
Hussain, who was serving a ban at the time of the offence and has previous convictions for dangerous driving, had denied being the driver.
"Why you did it is extremely difficult to understand"
Judge Robert Atherton"
He had a string of motoring convictions starting from the age of 16.
In November 2010 he was convicted of dangerous driving for a second time and sentenced to 12 months in a young offenders institute.
The court heard the incident in John Dalton Street started in "horseplay" between the victims' group and Hussain's group over a baseball cap.
But it led to "fisticuffs", with witnesses saying Hussain's group came off second best.
'Will never recover'
Minutes later Hussain jumped in the car and drove at the men in revenge.
Mr Ward was scooped up on the bonnet before being "deposited" at the side of the road.
Michael Ward was scooped up on the bonnet before being "deposited" at the side of the road
He was in intensive care for 20 days and spent about four months in a high-dependency unit.
Paul Hulme, 30, also suffered "significant injuries" with multiple leg fractures after being carried on the bonnet before Hussain veered in the road to knock him off.
Martin Harris, 32, suffered bruises as he was side-swiped by the car while a fourth member of Mr Ward's group, Thomas Mallanphy, narrowly escaped injury after stepping back from the road.
Passing sentence, Judge Robert Atherton said Mr Ward "was very, very seriously injured".
"He will never recover, he will never be able to enjoy his family," he added.
"One witness described the scene as being like someone bowling at skittles and people being flung like skittles to the side.
"Why you did it is extremely difficult to understand."
See on www.bbc.co.uk