See on Scoop.it – EVF NEWS FEED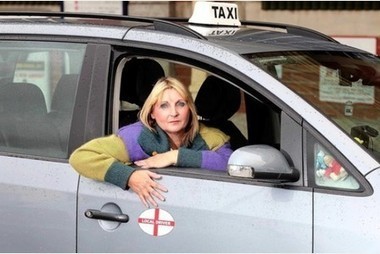 NEWTON Abbot taxi driver Denise Said has vowed to carry on displaying a St George's Cross sticker on her vehicle despite being told earlier this month by Teignbridge Council it breaches equality laws.
Denise, 56, has three English flag signs stuck on the doors and boot of her vehicle with the word 'local driver' clearly displayed.
Teignbridge Council says it will refuse to renew Denise's licence in February unless she ditches the stickers.
Cllr Mike Walters, Teignbridge Council spokesman for corporate services, said yesterday: "There has been no movement on the situation as far as I am aware.
"But there are processes in place to hear an appeal and that will be looked at fairly."
But the driver has vowed to keep flying the flag and says there's nothing offensive about the stickers.
Denise said: "I think it's pathetic. I believe the council is implying I am racist, but nothing could be further from the truth."
Denise has been displaying the St George's Crosses for a year without a single complaint before a rival reported her.
Self-employed Denise, who was married to a half-Maltese man for 16 years, says the stickers on her Volkswagen Touran people carrier are not offending anyone.
"I am a local driver and have been driving in Newton Abbot for 16 years.
"I'm British, I'm a local driver — where is the problem? I don't discriminate against anyone who gets into my car."
The council said the authority's Hackney Carriage and Private Hire Licensing Policy contained restrictions on the signs and adverts allowed on taxis.
A spokesman said: "Adverts or signs which do not comply with our equality duties, or cause offence because words or signs carry a certain inference, breach this policy.
"In this instance the English flag sign combined with the words 'local driver' could put other people who don't share either of those characteristics at a disadvantage in their day to day life."
See on www.exeterexpressandecho.co.uk