See on Scoop.it – EVF NEWS FEED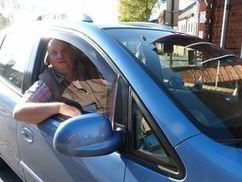 David Neil was grabbed round the neck in the vicious assault as his cab careered along at 30mph.
One of the gang jumped out of the moving vehicle as it swerved across the street, hitting curbs.
When Mr Neil, from Burbage finally managed to stop, the three remaining attackers broke door handles in order to escape.
Two fled with the 49-year-old's takings, but he managed to detain one of the men by sitting on him.
Police arrested the suspect and his accomplices, who were caught later, and the gang were handed over to UK Border Control.
Speaking to the Hinckley Times, Mr Neil said: "I was still driving when one of them in the back put his hands round my neck and tried hauling me out of my seat.
"Another chap in the back was grabbing at the steering wheel and another one was punching me. It was terrifying.
"Then the one in the front tried jumping out of the car as it was moving, I went to pull him back and he sank his teeth into my hand and I had to let go.
"How we didn't hit another car or crash into something or hit a pedestrian I just don't know.
"This attack was in broad daylight, mid-week during the middle of the day, you just don't expect it."
He went on to tell how despite having to have time off because of the pain in his hand and the damage to his cab, he is unable to recover his loses as the gang wherein the UK illegally.
He said: "I was injured, my car was damaged and my takings were stolen but I can't do anything about it. I'm the victim in all of this but I can't see justice done or get any kind of compensation because the blokes were illegal immigrants and have been shipped off back to their own country."
Following the attack Mr Neil, who owns Dave's Taxis, was given tetanus and hepatitis injections and put on a course of antibiotics
He had picked the four men up on Sketchley Meadows Industrial Estate at about 10.30am last Wednesday, after a snack bar owner called him on behalf of the group.
Mr Neil said: "They all looked rough and they stank but I thought I'd give them the benefit of the doubt.
"They weren't talking English but one said they wanted to go to 'city centre', then said 'Birmingham' so I said I'd take them into Hinckley town and they could get another cab from there.
"I didn't realise what I'd let myself in for. But I'm going to be more careful in future.
See on www.express.co.uk