See on Scoop.it – EVF NEWS FEED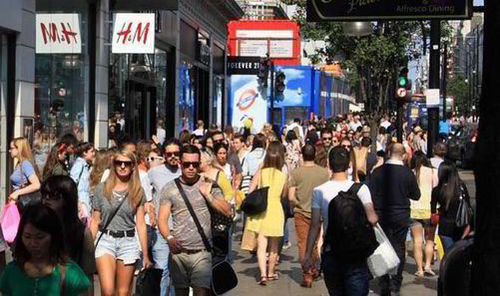 IMMIGRATION will be the driving factor behind a 10 million people population boom in the UK over the next 25 years, according to new projections.
Figures released by the Office for National Statistics (ONS) show the UK's population will hit 73.3 million by mid-2037 – up from today's 63.7 million.
The majority of the boom – 5.8 million – will be due to migration, either directly through new arrivals into the country or indirectly through the impact on the birth rate.
The number of people aged 80 or older is projected to more than double over the same period to 6.2 million, creating an old age timebomb, which will place a devastating strain on social care services.
The population figures were seized on by Ukip European election candidate Amjad Bashir.
He said: "Ten million more people added to the UK population in just 25 years is staggering and it could well be disastrous.
"We now face a situation where we have no choice but to control immigration as the growing population is stretching our services to breaking point."
The projected 9.6 million rise in the population would mean an increase bigger than the current 8.3 million population of London, the ONS confirmed.
The figures also project an increasingly ageing population with the average age increasing from 39.7 years old in 2012 to 42.8 by mid-2037.
Caroline Abraham, Age UK's Charity Director, said the prospect of people living longer lives was a "cause for celebration", but warned society would need to adjust its priorities in order to manage this development.
She said: "This will mean big changes for the NHS where already 60 per cent of patients are over the age of 65, and for our social care system which is at crisis point.
"But this is not just about Government action. Individually and collectively we also need to change our approach to housing, pensions and services so that we can make the most of a longer later life."
The average completed family size is projected to be 1.89 children by 2037, the ONS said.
Richard Pereira, head of population statistics for the ONS, said: "These population projections are used across Government in terms of setting policy, they are used by the Office for Budget Responsibility (OBR) as a key input for their long-term fiscal projections, they are used by the Department for Work and Pensions for policy on benefits and pensions, and they are used by people like the Department for Education."
The number of children aged under five is not projected to change much over the 25 years to mid-2037, the ONS said.
But the number of primary school-age children is projected to increase by 13 per cent to reach 5.7 million. Over the same period, the number of children aged 12 to 16 is projected to rise by 10 per cent to 4.1 million.
Sir Andrew Green, chairman of Migration Watch UK, said: "These latest projections confirm that we are still on course for a continued and substantial increase in population.
"By the end of the next parliament, the population will have increased by three million, the equivalent of Birmingham, Liverpool, Manchester, Glasgow, Cardiff and Aberdeen.
"This underlines the absolute need to have a net migration target and stick to it."
See on www.express.co.uk