See on Scoop.it – EVF NEWS FEED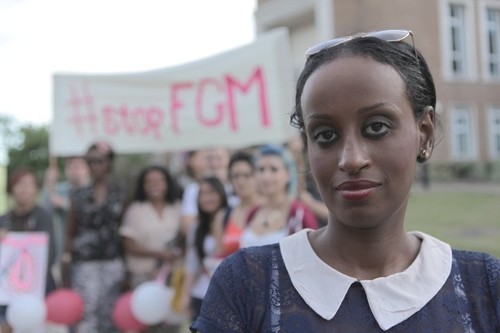 How crazy is political correctness in Britain? One woman who campaigns against female genital mutilation (FGM) decided to find out by seeing if she could get people to sign a petition in support of the violent and illegal ritual.
The results are shocking. All but one person Leyla Hussein approached put their name to her fake petition asking them to "save female circumcision" as a cultural tradition and right.
Hussein, who was subjected to the excruciatingly painful practice when she was seven, was left in tears by the experiment. She says people's fear of being deemed racist is a major barrier to stopping FGM in Britain.
"We thought no one in their right minds would sign it. I kept saying the word 'mutilation' so many times and no one questioned it, except one woman," Hussein told me in an interview. "After 19 signatures I stopped. I couldn't do it any more. I broke down in tears. I was in bits."
Hussein says FGM is child abuse, yet everyone is too afraid to intervene for fear of offending cultural sensibilities.
Her experiment is shown in a TV documentary, The Cruel Cut, which goes out on Britain's Channel 4 on Wednesday night.
It is the first time so many British women have spoken out about their experiences of FGM, which involves the partial or total removal of the external genitalia.
Some of the women in the film describe how their injuries have left them wetting the bed or unable to have children.
The broadcast comes amid concerted efforts by politicians, prosecutors, police, health workers and campaigners to tackle FGM, which is practised in secret by communities from a swathe of African countries.
BACKLASH: SPAT ON AND PUNCHED
Hussein, a 33-year-old psychotherapist and founder of anti-FGM charity Daughters of Eve, said the purpose of her petition stunt was "to see how crazy political correctness has become in Britain", especially around FGM.
She tells passers-by in the central English town of Northampton that she has undergone female genital mutilation and wants to protect her cultural traditions. "The reason we practise it is because it keeps us clean, it keeps us pure," she tells them.
In reality, what Hussein went through at seven was completely horrific. Four women held her down, while a fifth cut her.
"I felt every single cut, pull, stitching. I felt the whole thing. I was screaming so much I just blacked out," she says in the film.
"Mine was done in Somalia before I moved here, but each year British girls are taken away to be cut. It's also done right here in the UK.
"As far as I'm concerned, nowhere near enough is being done to protect the 24,000 girls estimated to be at risk of FGM in the UK from this child abuse."
Hussein is scared about the reaction to the film after being abused and threatened following previous media interviews.
"I hope no one tries to kill me after this documentary. I've been having nightmares about it," she told me. "I am very anxious about it."
Police have installed panic buttons in Hussein's home ahead of Wednesday's broadcast.
Her mother, who features in the film, asked for her face to be obscured because she is worried about the reaction of her community.
Hussein said there was a terrible backlash after she spoke out some years ago. People shouted insults outside her home and in the street. She was spat on and punched in the face.
Her mother had to stop going to her mosque, and Hussein had to take her daughter out of school and move house. She now lives in a secure home and the police keep a watch on her.
CULTURAL PRESSURES
Hussein has kept a low profile recently. The decision to do the documentary was not easy, she says, but it will be worth it if it helps spare other girls.
"The 7-year-old Leyla would not be happy if I gave up on this campaign," she said. "If this programme saves just one girl I have done something."
In a particularly moving scene, Leyla and her sister talk to their mother about why she had them cut – something the family had never discussed before.
Hussein's mother describes the enormous social and cultural pressure she came under to carry on the tradition.
Girls who were not cut were considered dirty and would be ostracised, she says. You had to have your daughter cut or you would be ruining her whole life.
Her mother tells them how she herself underwent FGM when she was five.
"Two days later I got on a bike. People saw me on the bike and said that not enough was removed. So I would have to have it done again," she says.
Hussein's mother, who suffered the procedure two times, says she would never have put her daughters though the same ordeal if she had known then what she knows now.
"Every day I ask for forgiveness for making you go through that," she tells Hussein and her sister.
In the past, my colleagues and I have asked other survivors of FGM if they would be happy to be interviewed with their mothers. The answer has always been no. FGM is surrounded by taboos. Women simply do not talk to their parents about it.
Leyla and her family deserve huge credit for helping to bring FGM out of the shadows.
See on www.trust.org