See on Scoop.it – EVF NEWS FEED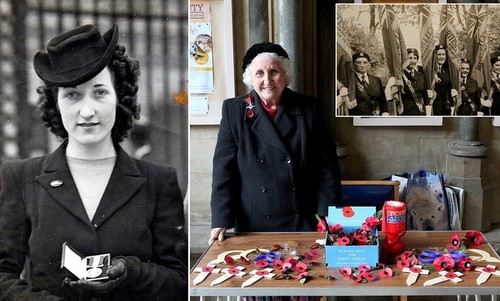 Britain's longest-serving poppy seller is raising money for the Royal British Legion for the 75th consecutive year having sold over 30,000 poppies in nearly eight decades.
Devoted Olive Cooke, 91, vowed to always sell poppies after her husband Leslie was killed in action during the Second World War when she was just 21.
She began selling poppies in 1938 but the flowers took on new significance following his death on naval duty just two years after their wedding.
Mrs Cooke has maintained her hard work ever since raising thousands for charity over the past eight decades.
Mother-of-three Mrs Cooke was back on the streets this week in the run up to Remembrance Day, continuing to raise vital funds for the much-loved organisation.
She said: 'I will never give up – it is important to remember the people who died in the wars, and are still dying now.
'It was my main interest following the war and I became the standard bearer in the Bedminster Down Women's section and took office of secretary and later chairman.
'My father, Fred Canning, was in the Royal Irish Regiment and he had told me tales of how he fought at Gallipoli in the First World War, ever since I was a little girl sitting on his knee.
'I carried the standard for 54 years until 1998. I sold poppies every year and was given a special medal from the Royal British Legion for 66 years of continuous selling.
'I've now added even more years to that and am up to 75 now.'
Mrs Cooke, who lives in Fishponds, Bristol, met husband Leslie Hussey-Yeo in 1939, a handsome sailor with the Royal Navy who was about to leave the service and settle down.
But the start of the Second World War meant he had to continue serving on submarines and he was killed in action in 1943 when Mrs Cooke was just 21.
See on www.dailymail.co.uk