See on Scoop.it – EVF NEWS FEED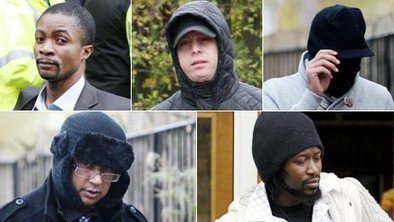 Greater Manchester Police (GMP) have apologised to a "profoundly vulnerable" girl who was sexually exploited as a 15-year-old by five men from Rochdale.
The victim, now 20, told police in 2008 that Freddie Kendakumana, 27, had raped her but he was not charged until October last year.
Other men who went on to abuse her were convicted at two trials in Manchester.
The case has been referred to the Independent Police Complaints Commission.
The victim was advised to approach the police four years ago by a health support worker when she disclosed that Kendakumana was forcing himself on her.
The case was re-opened after GMP's sexual crime unit highlighted failings with the initial investigation as part of Operation Span which took a fresh look at allegations from other under-age girls in the Rochdale area.
By the time of the arrests, the victim had undergone several police interviews over three years, totalling more than 23 hours.
Assistant Chief Constable Dawn Copley said the force acknowledged "there were some failings".
"We accept that there was more that could, and should, have been done to protect and support the victim," she said.
"We have apologised to her for the delay in dealing with her case and reiterate that apology publicly today."
Formal management action has been given to two of the officers involved, she added.
Crack cocaine
Manchester Minshull Street Crown Court heard the girl was "streetwise" and using crack cocaine from the age of 11 and sniffing lighter fuel at 12.
Continue reading the main story"Start Quote
We accept that there was more that could, and should, have been done to protect and support the victim."
Asst Ch Con Dawn Copley of Gtr Manchester Police
She was taken into local authority care in 2008 following a chaotic upbringing by her drug-addicted parents.
Prosecutor Neil Usher said her "chaotic life" made her "vulnerable to being groomed and exploited" with drink, cannabis and "the attention and affection" she craved.
He said she repeatedly returned to the men despite her being advised and supported by health care and social workers.
Agencies, including Pennine Care Foundation Trust's crisis intervention team and Early Break – an organisation focussing on substance misuse, also had contact with the girl.
Yet the court was told that social workers failed to pass on the girl's confessions in 2008 and 2009 that she was having consensual sex with a string of older "boyfriends".
Shortly before her 16th birthday she cut her ties with the men and enrolled at college.
During a first trial, Kendakumana, of Illminster, Rochdale, was convicted of rape and sexual activity with a child. He was cleared of a second rape.
Mohammed Rafiq Abubaker, 25, of Freehold, Rochdale, and takeaway worker Roheez Khan, 27, of Ashfield Road, Rochdale, were convicted of sexual activity with a child. Khan was convicted of witness intimidation.
Chola Chansa, 33, of Illminster, Rochdale, admitted sexual activity with a child before the first trial began.
In a second trial, taxi driver Abdul Huk, 37, of Ouldfield Close, Rochdale, was found guilty of sexual activity with child.
All the defendants will be sentenced at Manchester Crown Court in December.
Other victims
Nazir Afzal, chief Crown prosecutor for the north west said the men "manipulated" the girl into thinking the abuse they inflicted on her was "part of a genuine relationship."
He said: "The victim in this case has shown tremendous courage in giving evidence at court. It is testament to her bravery that we have been able to secure these convictions and bring these defendants to justice."
He urged other victims to come forward.
In May 2012, nine men were jailed at Liverpool Crown Court for exploiting girls aged between the ages of 13 and 15 in Rochdale and Heywood.
A safeguarding report found that social workers, police and prosecutors had missed opportunities to stop the exploitation.
There are no known links between the girl and the perpetrators in the Liverpool trial.
See on www.bbc.co.uk