See on Scoop.it – EVF NEWS FEED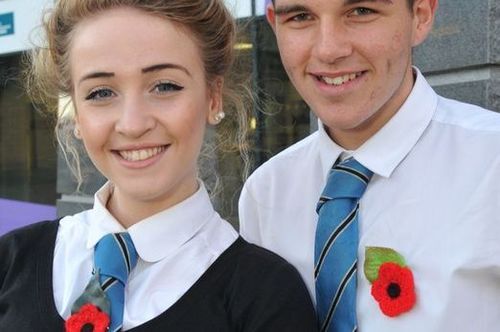 Haven Bain and Brandon Stewart claim they were told by a photographer to take poppies off their uniforms.
Pupils from a South Lanarkshire high school were left 'disgusted' and 'angry' this week after being asked to remove poppies from their school ties during a photo shoot.
Calderside Academy school children Haven Bain and Brandon Stewart claim they were told by a staff member of John Wilson Photography to take the pin off their uniform during a photo sitting.
The photographer who works for the Bellshill-firm is alleged to have asked for the removal of the poppies while taking the pupils pictures.
The fourth-year pupils, both 14, were shocked by the request and felt it was a complete lack of respect but complied in order to have their photograph taken.
Brandon, of Ashworth Terrace in Burnbank, explained: "I couldn't believe I was being asked to remove the poppy from my school uniform. It was utterly disrespectful and I went straight home and told my family what had happened.
"We told the school and I understand they were quick to contact the photography firm to ask for an explanation."
Brandon continued: "I wear the poppy with pride as a mark of respect to my great grandfather who fought in World War II, and of course to every other serviceman and woman of our country. For anyone to be asked to remove a poppy is disgraceful."
Haven, of West Craigs, Blantyre, added: "Brandon went first for his photograph and came out and warned me that I would be asked to take my poppy off and I was shocked.
"I felt disrespected and as a rights-respecting school I felt it was very hypocritical of someone to come in and ask to us remove our poppies. Armistice Day is something that I really believe in."
Both pupils had been given their poppies by their respective grandparents.
John Wilson Photography insisted the incident was a misunderstanding and have issued an apology.
They have also revisited the school and taken the youths' photographs complete with them wearing their poppies, and have offered the families a discounted price for the pictures.
Mr Wilson of John Wilson Photography explained: "Firstly, I would like to apologise unreservedly to the four families involved in the episode of the removal of poppies during the school's photo shoot. The employee who took the school's photographs is an aspiring young girl at 19-years-old, who I have had working alongside me since her work experience from school.
"It was her lack of understanding and wanting to do a good job with attention to detail, that she decided herself to take the poppy off without my knowledge or consent. I do not accept this practice, it is not my company policy and it never has been.
"My family have been in business since 1978 and we have taken thousands of photographs of children wearing poppies. My grandfather was in the war and I regularly make donations to charities such as Erskine Hospital and various cancer charities.
"As soon as I was aware of the issue I spoke with the school immediately to apologise, arranged to get the photographs retaken and to offer a substantial discount to the few parents involved.
Skayne Dodds, head teacher at Calderside Academy said: "The photographer who represented the company made the request for some pupils to remove poppies so as not to date the class photos. The company have since apologised for any offence caused and have stated that asking pupils to remove poppies is not company policy. The school fully supports poppyscotland and will actively fund raise during the month of November for this worthy charity."
See on www.dailyrecord.co.uk