See on Scoop.it – EVF NEWS FEED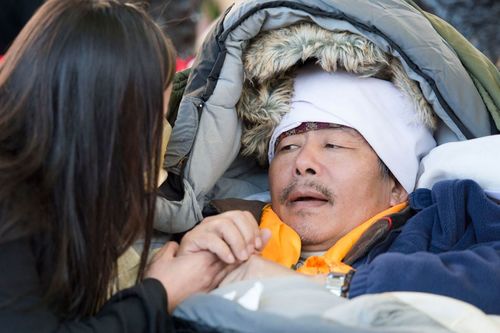 In the freezing cold at Whitehall Gyanraj Rai told the Mirror: "I will die in the name of dignity and equality for all Gurkhas.
Barely able to speak through starvation, this brave Gurkha warrior vows that he will die for his comrades – right on Prime Minister David Cameron's doorstep.
In the freezing cold at Whitehall yesterday, breathing heavily and only just audible over the sound of chanting Nepalese supporters, Gyanraj Rai told the Mirror: "I will die in the name of dignity and equality for all Gurkhas.
"This is a cause worth dying for and it is one I truly believe in. I want to change the way we are treated.
"I will give my life for this."
Gyanraj Rai, 55, was yesterday on day 13 of his starvation protest and has not moved from his position opposite 10 Downing Street or eaten in all of that time.
Although he is wrapped in blankets he has maintained his freezing vigil throughout windswept nights in Whitehall long after Londoners and tourists have gone home.
Asked by the Daily Mirror if he is truly prepared to die for his cause, he looked up and nodded weakly before indicating that he could not talk any further.
The UK-base Nepali community has garnered huge support for Rai who is demanding better pension arrangements and compensation for disparity in pay with other British soldiers.
The married former soldier, who was most recently a bus driver living in Reading, Berks, served the British Army as a Gurkha in Hong Kong and in hot spots all over the globe.
Remarkably, also prepared to die and standing close by was former Gurkha warrior called Krishna Bahadur Rai, 52, a former Gurkha Corporal who served with Rai in the Army.
He told The Daily Mirror: "It is true that if my comrade dies then I will take over the protest after that has happened. I too am prepared to die for this.
"We want dignity and equality and that is not too much to ask for such loyal and faithful service to Britain for 200 years.
"We do not want charity. That is not what this is about at all. We want to change the mind of this Government and make them bring in changes that will mean we are treated with equality.
"We have offered to sacrifice our lives for Britain. Can there be no greater sacrifice? In return we want to see that in future and in the past Gurkhas are honoured properly.
"When I retired with little more than £20 a-month pension I was shocked to learn that that is not much more than it costs to keep an Army tracker dog.
"Does that mean that I as a veteran of the Armed Forces am worth little more than a dog to the British Government?"
Yesterday the Ministry of Defence hit back: "Gurkhas have served this country with great loyalty and distinction over the years – however the MOD does not recognise the claims that the Gurkhas have been discriminated against during their service.
"Gurkha terms and conditions of service have always been fair, they have reflected the environment that the Gurkhas were in, and they have changed and improved over time to reflect the Gurkhas' changing circumstances."
See on www.mirror.co.uk