See on Scoop.it – EVF NEWS FEED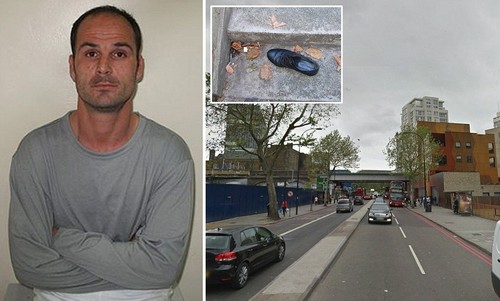 A Romanian man who was deported from Britain has been jailed after coming back into the country and raping a stranger waiting for a bus home from a night out.
Homeless Marius Glad Trimbitas, 33, carried out the sex attack on a 24-year-old woman after she had left the Ministry of Sound nightclub, in central London.
Judge Alice Robinson said the rape had a 'devastating' impact on the victim, and jailed the sex attacker for eight years.
Police said they 'cannot rule out that he has not done this before', and the court heard about a conviction for false imprisonment involving a sex worker dating back to before his deportation.
The victim was saved from further injury following the rape on October 6 after three members of the public fought off the attacker when they heard cries for help.
Trimbitas, who the judge said was deported in 2005 but returned to the UK in March this year, kept his head bowed throughout the hearing at London's Woolwich Crown Court.
Simon Shannon, prosecuting, told the court the victim was out with friends celebrating a birthday and left the nightclub to catch a bus home.
She was walking along the New Kent Road, near Elephant and Castle, at around 4am and had stopped at a bus stop that was quieter than the previous stops.
'Before she knew what had happened she had been grabbed from behind,' Mr Shannon said.
The court heard that Trimbitas dragged the victim into a nearby stairwell, where he subjected her to a horrific assault while threatening to kill her.
The attack was 'extremely painful', and the victim 'struggled to breathe', Mr Shannon said.
'Everything was happening very quickly,' he added.
Reacting to her screams, Trimbitas shoved his hand into the woman's mouth, and the attack stopped because three passers-by intervened, Mr Shannon said.
The court was told that one of them dragged the defendant off the woman, at which point he fled.
Two of the passers-by – two men – then chased Trimbitas, but stopped after he turned to face them and they thought he may have been armed with a weapon, the prosecution said.
A female passer-by stopped to look after the woman.
The victim required was taken to hospital because of injuries she sustained in the attack.
A shoe found at the scene was analysed and identified as belonging to Trimbitas within 24 hours, police said.
Trimbitas handed himself in to the police on October 11 after a manhunt which involved police getting assistance from the homeless community and also the Romanian community.
He later admitted rape, assault by penetration and making threats to kill.
Sentencing Trimbitas, Judge Alice Robinson told him it was to his credit that he had pleaded guilty at the earliest opportunity.
She referred to a previous conviction for false imprisonment when his victim was a sex worker, his deportation in 2005 and his return to the UK in March this year, saying: 'You were here little more than six months before committing this horrific crime.'
She said he was 'so drunk and or high on drugs' that he could not remember the attack.
'You inflicted serious injuries on this victim, both physical and psychological,' she said.
The judge described the effects of the attack on the victim as 'devastating'.
She said there was a high risk of sexual offending in future and a high risk of him inflicting harm against women.
Trimbitas was given eight years in jail with an extended licence period of four years.
The judge recommended that he should be deported after serving his sentence and said he will be placed on the Sex Offenders' Register for life.
Brian Kennedy, mitigating, said Trimbitas 'fully accepts his responsibility for his actions', and said he had endured a 'traumatic experience in a Romanian orphanage'
Mr Kennedy said Trimbitas described his own actions as 'beyond evil'.
Detective Inspector Jackie Wakeford-Smith, senior investigating officer in the case, said the attack was 'horrendous' and 'beyond words'.
'This is one of the most disturbing assaults I have worked on.
'Detectives from Sapphire worked tirelessly to identify and locate Trimbitas who was a rough sleeper and I thank the homeless population in Southwark and Westminster who assisted us in locating him.
'I cannot rule out that he has not done this before but, if you have been assaulted by Trimbitas, please come forward and tell us. We have trained officers and partners who can support you.'
Detective Constable Paul Hill, of the Met's Sexual Offences, Exploitation and Child Abuse Command, said: 'I commend the victim for her courage and commitment in this case.
'This was a very violent attack on a lone female at night on her way home.
'She was attacked on a busy road and, had three brave people walking past not intervened, she could have been more seriously injured.
'Trimbitas is a dangerous individual who has now been convicted of this crime and will rightly spend a long time in prison.'
See on www.dailymail.co.uk