See on Scoop.it – EVF NEWS FEED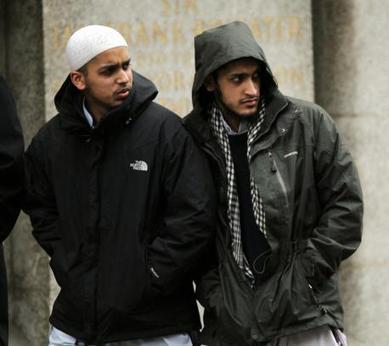 Two Bradford brothers plotted to travel abroad for terrorist training after being "radicalised" by an in-law, a court has heard.
Muhammed Saeed Ahmed, 21, and Muhammed Naeem Ahmed, 20, had come under the influence of their brother-in-law Muhammed Shafaraz Ahmed, who pleaded guilty earlier this year to an offence of preparing for acts of terrorism, an Old Bailey jury were told.
Jonathan Sandiford, prosecuting, said the brothers, of Little Horton, had been observed by police and security services in the company of Shafaraz Ahmed on "effectively training trips" in Snowdonia and the Brecon Beacons aimed at preparing themselves for stays in the Yemen and Afghanistan.
"The prosecution say that they were going on these occasions on what were effectively training trips, trying to prepare themselves for the arduous conditions that you would expect to encounter if they went to Afghanistan or to Yemen for the purpose of terrorist training," Mr Sandiford told the court.
He said police had searched the family home of the brothers in Bradford on March 16 last year and were told by the brothers' father that his two sons were due to travel to Bangladesh on the following day with other family members.
Items found during a search of the brothers' bedrooms included a GPS device, night vision goggles, high quality LED torches and sleeping bags for use in very cold conditions, in spite of the climate in Bangladesh being very hot and humid, he said. Other items included high grade military clothing and a copy of an SAS survival handbook, he said.
"What the prosecution say is that in fact a large number of the items that they had either partly packed or were ready to be packed were not items that you would expect to see them taking for a family holiday in Bangladesh at that particular time of year," Mr Sandiford told the court. "The prosecution say that the two defendants were going to use the family trip to Bangladesh as a cover to move on from there to places where they could obtain terrorist training."
He told the jury that Shafaraz Ahmed had "succeeded in radicalising" the brothers. "As the prosecution understand it, the two defendants will accept that their brother-in-law Shafaraz Ahmed had tried to radicalise them, it is the prosecution's case that he succeeded in radicalising them and he succeeded in influencing them to the extent of their intention to go abroad for the purpose of terrorist training.
"In simple terms, the prosecution say that in the period of time between November 21, 2010 and March 17, 2012 these two men became radicalised into a version of Islam that led them to come into an agreement – a conspiracy – a criminal agreement to attend a place for terrorist training," he told the court.
"The prosecution say they were planning to go."
The brothers deny a charge of conspiring together and with others to attend a place used for terrorist training.
They have admitted 11 counts between them of collecting or possessing information likely to be useful to a person committing or preparing an act of terrorism. The trial was adjourned until tomorrow.
See on www.thetelegraphandargus.co.uk