See on Scoop.it – EVF NEWS FEED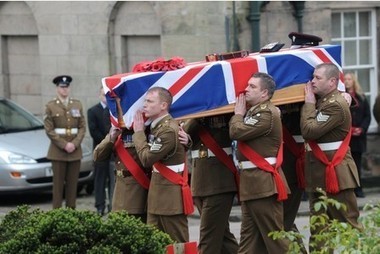 THE FUNERAL of fallen soldier WO2 Ian Fisher has been held today.
The 42-year-old, of the Mercian Regiment's 3rd Battalion (Staffords), died in a suicide bomb blast in Helmand Province, Afghanistan on Monday November 4.
The service took place at Lichfield Cathedral where friends and family members gathered to pay their final respects to the Warrant Officer.
Among them was Captain Mick Whillock, of 3rd Battalion The Mercian Regiment, who had known the father-of-two, for more than 20 years.
He said: "I first met Ian when he arrived in the army. I was a young situation commander about to go to Hong Kong.
"I have been privileged to watch him grow up in the army. I next worked with him during two tours in Iraq and he was a Gunnery Sergeant. He led from the front and when you were with him, you knew you were in safe hands. He was very good tactically and he would have got you out of any situation safely.
"As a young lad he was fairly quiet but very intelligent. We used to joke he had more qualifications than the commanders. We knew and loved him by the nickname of 'The Colonel.' He was very witty and could hold his own against anyone.
"I still can't believe he has gone. He was like a brother to us all and his death is a great loss. At the moment, I just feel empty and my heart goes out to his wife and children."
Brigadier Andrew Williams OBE, Colonel of 3rd Battalion The Mercian Regiment, said: "There is no doubt that WO2 Fisher was a loyal and competent soldier. He was loved by everyone, not just his own family. The tragic death has left a hole in everyone's lives.
"He was a very modern Sergeant Major and he epitomised the very essence of what we want in our soldiers. He was brave, intelligent and was able to balance that with a very gritty and tough professionalism.
"He was one of the leading lights of his generation in his professionalism and there is no doubt he would have had a glittering career ahead of him. I would have anticipated he would have been commissioned as an officer.
"All of us soldiers are relatively used to these sort of tragic events but we have to carry on with our duties. The rest of the battalion and A company in particular have shown tremendous resolve and that stoicism the Mercian soldiers are well known for."
Major Jez Jerome, officer commanding the rear operations group of 3rd Battalion The Mercian Regiment, said: "WO2 Fisher was a man I had deep and profound respect for. I only worked with him for four months but I found him to be the archetypal stereotype of a Sergeant Major.
"He was confident, professional and he had lots of confidence in his own ability. He had a big impact on a lot of people in the army including soldiers who only worked with him for a week or so. He left an impact on everyone he met."
A simultaneous service was held in Camp Bastion in Afghanistan by WO2 Fisher's colleagues.
See on www.stokesentinel.co.uk