See on Scoop.it – EVF NEWS FEED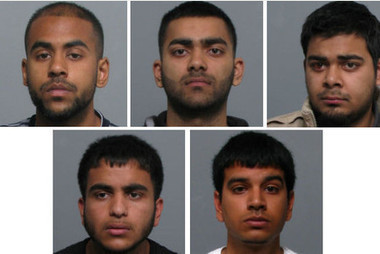 Police have released pictures of five men who, along with a 16-year-old youth, were sentenced to more than 16 years in prison between them for carrying out muggings on teenage boys in Leicester.
Victims were targeted in five separate incidents and had their mobile phones, money and bicycles stolen.
The robbers were all sentenced on Friday, November 15 at Leicester Crown Court for five separate robberies between September 2012 and April 2013. Police have just released the images of the attackers.
Sohel Saiyed (18) of Darley Street, Spinney Hill was sentenced to four years and three months, Wildaan Ramjaun (19) of Trevino Drive, Rushey Mead and Ahmad Golamhosen (20) of Staveley Road, North Evington each received four years.
Raju Pancholi (19) of Litelmede, New Humberstone received two years and eight months and Muhammad Ramjaun (21) of Trevino Drive, Rushey Mead received two years and a further seven days for breaching a suspended sentence. A 16-year-old youth received an 18 month detention and training order.
The first incident took place in September 2012 when a youth was robbed of his mobile telephone in Charles Street, and involved Sohel Saiyed and Raju Pancholi and an unknown suspect.
On November 21 2012, Ahmad Golamhosen, Wildaan Ramjaun and Sohel Saiyed robbed a 16-year-old boy of his Apple iPhone in Victoria Park, Leicester.
In April this year Wildaan Ramjaun and Golamhosen were in a group of unknown others who robbed a 14-year-old of £5 in Upper Tichborne Street.
Golamhosen, Wildaan Ramjaun and Muhammad Ramjaun were in Gwendolen Road, Evington, when they stole mobile telephones from three youths on April 30.
In August the 16-year-old defendant and an unknown suspect forced two boys to hand over their BMX bikes on Belgrave Flyover.
Detective Sergeant Simon Collington said: "The sentences passed down for these robberies will hopefully go some way in reassuring the public that we will leave no stone unturned to bring these offenders to justice.
"These defendants had no regard for the affect their crimes would have on the victims and the wider community and it is only right that they now face a number of years behind bars.
"During their sentencing Judge Michael Pert QC told the defendants who all pleaded guilty to their involvement in the offences, the offence of robbery, taking something from someone by force in public, is a serious matter and that the word must go out that these courts will treat such matters seriously. "
See on www.leicestermercury.co.uk